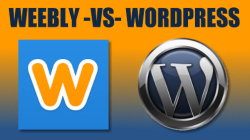 Recently I've had a client ask me to research the pros and cons of using Weebly versus WordPress. Both are a framework used to create a custom website. Both remove the stress of tedious html coding from web design and replace it with a clever user interface. Weebly's interface is a very simple drag and drop. It doesn't get much easier than that. However WordPress has a robust interface and zillions of features, addons and benefits that must be considered too.
Why Use Weebly? Most people choose Weebly because it is simple to get started and hosting is free unless you need features found in their premium plan. You signup with Weebly and they will host your domain and provide their framework and website building tools as part of your Weebly account. Weebly's website tools let you drag and drop elements into your website and have a website show signs of life quickly with very little effort. In fact, here's some reasons to choose Weebly as your 'framework'.
You just want a simple website that you can build real fast
Drag and Drop and WYSIWYG is super important
No time to learn how WordPress works
Don't want to hire a WordPress expert to build your website
Nothing fancy needed here, no extra features
Not bothered by a 'Powered by Weebly logo placement in the footer
The largest complaint with Weebly sites has been lack of integrations and pre-built features. Being outnumbered by WordPress by nearly 8 to 1, means there are few Weebly developers providing premium utilities and themes. However this has been changing for the better in recent months. See divtagtemplates.com for a variety of Weebly resources and themes you may not know existed.
Why Use WordPress?  WordPress began as a free blogging platform so most people think this is just a blogging tool for people who want to blog about their interests. However, today you'll find WordPress is broadly used to create a variety of business websites. Businesses using WordPress first need to find hosting for their domain. Hosting company's offer the WordPress installation for free and then you choose a theme to customize. Paying an expert to set all this up makes this method very easy. Once your site is completed, you can quickly learn how to make changes and create new pages and posts or continue to let your expert do the work.
The real beauty of WordPress is in the massive developer and support base that are continually building themes, plugins and integrations with social media and other third parties. Basically this means you can do a lot more fancier things with WordPress.
There's a very good detailed article that goes more in depth into the factors that influence the ultimate choice, but if it were my choice and the variables were each weighed, I'd choose WordPress more than half the time.
If you are faced with this choice and would like to lay a good foundation for your business's website to grow, contact me today!
We'll weigh your goals and objectives and I'll help you decide what framework to use to build your new website.
Let's start building your online presence now.